Following Acquisition of Belvedere Square, The Premier Companies Retains MacKenzie as Exclusive Leasing Broker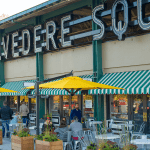 Venue located at intersection of E. Belvedere Avenue and York Road in Baltimore City offers complementary mix of restaurants, boutique shopping, professional services, fitness and healthcare uses          
Following its recent acquisition of Belvedere Square, The Premier Companies has retained MacKenzie Commercial Real Estate Services, LLC as the exclusive retail leasing broker for the venue comprising approximately 110,000 square feet of restaurant, boutique shopping, fitness, healthcare and specialty space. Located at the intersection of E. Belvedere Avenue and York Road near Northern Parkway in Baltimore City, the project, which features more than 30 tenants, was opened in its original form in 1948 and redeveloped several times by past ownership groups. Mike Ruocco, Senior Vice President & Principal and Henry Deford, Vice President will continue to oversee the assignment.
Serving the North Baltimore submarket, representative restaurants include Atwater's, Mason's Lobster Rolls, Neopol Savory Smokery and Pizza Trust. Additional tenants are Baltimore Bicycle Works, Loyola Clinical Center, Maryland Vascular Specialists, Truist, University of Maryland Urgent Care and Verizon. Belvedere Square is situated adjacent to The Senator Theatre and services the restaurant and retail needs of several educational institutions such as John Hopkins University, Loyola University and the Maryland Institute College of Art.
More than 500,000 people reside within a five-mile radius of Belvedere Square, including more than 200,000 households with an average household income approaching $100,000.
"The Premier Companies is committed to preserving the highly differentiated shopping experience at Belvedere Square, as well as attracting compelling new uses that piques the interest of the local community and adds long-term value," stated Mike Ruocco of MacKenzie Commercial Real Estate Services. "Expanding the presence of Loyola Clinical Center, a key anchor and a tenant that delivers critical wellness programs to diverse audiences, was a significant accomplishment that demonstrated the expertise of our leasing team. Belvedere Square remains a high-profile development with a rich history, and features numerous destination tenants that attracts consumers from a large radius. We intend to attract new uses, including those which establish their initial presence in the Baltimore metropolitan area, to further expand the consumer reach."
MacKenzie Commercial Real Estate Services is the real estate brokerage arm of The MacKenzie Companies, which operates six full-service divisions addressing all real estate asset classes including MacKenzie Management Company, LLC, MacKenzie Contracting Company, LLC, MacKenzie Capital, LLC, MacKenzie Investment Group, LLC and MacKenzie Multifamily Management, LLC. The company provides customized real estate solutions for institutional owners, investors, private companies and individuals. For additional information, visit www.mackenziecommercial.com