MacKenzie Brokers Sale of 3.6 Acre Site in Curtis Bay for $1.85 Million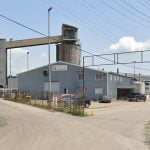 New owner, CSX Transportation, intends to demolish buildings
MacKenzie Commercial Real Estate Services, LLC has brokered the sale of a 3.6 acre parcel, located at 1920 Benhill Avenue in the Curtis Bay section of Baltimore City for $1.85 million. The site, which includes two buildings totaling approximately 23,000 square feet of space, was formerly owned by USALCO.  Andrew Meeder, SIOR, Senior Vice President/Principal and David McClatchy, Vice President for MacKenzie Commercial Real Estate Services represented the seller in this transaction. The buyer was CSX Transportation and was self-represented.
The site is within close proximity to Interstates 97, 695 and 895 in South Baltimore. CSX Transportation intends to demolish the existing buildings for future needs.
"This represented an opportunistic acquisition by the new owner, as CSX Transportation recognized the unique chance to enlarge its operation which is situated directly adjacent to the property," explained Andrew Meeder of MacKenzie Commercial Real Estate Services.
"Small industrial/logistic sites in Baltimore City, especially those located along the waterfront, are increasingly difficult to come by and there are typically numerous bidders when properties become available," added David McClatchy of MacKenzie.
Additional sales completed by MacKenzie Commercial Real Estate Services last year include 600 Caroline Street, a 50,000 square foot building which traded for $10 million; the $5 million sale of a 3.5 acre parcel at 2600 Sisson Street; and 1407 Parker Road, a 103,000 square foot building contained on a .58 acre parcel which sold for $10 million.
MacKenzie Commercial Real Estate Services is the real estate brokerage arm of The MacKenzie Companies, which operates six full-service divisions addressing all real estate asset classes including MacKenzie Management Company, LLC, MacKenzie Contracting Company, LLC, MacKenzie Capital, LLC, MacKenzie Investment Group, LLC and MacKenzie Multifamily Management, LLC. The company provides customized real estate solutions for institutional owners, investors, private companies and individuals. For additional information, visit www.mackenziecommercial.com.