MacKenzie Brokers Sale of 80,000 sf Warehouse in Baltimore County, $6.6 Million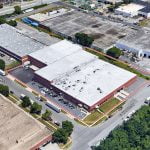 Secondhand textile recycling company, Whitehouse & Schapiro, LLC is new owner of 1201 67th Street     
Whitehouse & Schapiro, LLC, a family-owned company engaged in the secondhand textile recycling industry, has acquired 1201 67th Street, a single-story, 80,000 square foot warehouse building positioned in the Rosedale section of Baltimore County for $6.6 million. Daniel Hudak and Andrew Meeder, both SIOR, Senior Vice President and Principal, as well as Matthew Curran, SIOR, Vice President for MacKenzie Commercial Real Estate Services represented the seller, Daniels Property Group which is an affiliate of Daniels Health and procured the buyer in this sales transaction. The building was constructed in 1982 and is sited on a 2.6-acre parcel of land at the intersection of 67th Street and E. Biddle Street.
Founded in 1907 and headquartered in Baltimore, Whitehouse & Schapiro works with charitable and non-profit organizations by taking excess product from their facilities, organizing it and redistributing the goods to global communities. Products typically gathered and repurposed include leftover donations or secondhand clothing, shoes, belts, purses, housewares, furniture and toys. Working with several logistics groups, the company recently donated nearly 4,000 blankets made from recycled fibers to support the war effort in Ukraine.
Whitehouse & Schapiro intends to occupy space in 1201 67th Street to support its primary operations in Hanover, joining Gamse Lithographing Company, a group involved in labels and packaging solutions.
Equipped with clear ceiling heights ranging from 16 to 28 feet, rear loading docks and a platform dock, a truck court and free surface parking surrounding the building, 1201 67th Street overlooks Pulaski Highway (US Route 40), is adjacent to Interstates 95 and 895 and is approximately five miles from the Port of Baltimore and 10 miles from BWI Airport.
"The product inventory for this asset class remains extremely tight throughout the Baltimore metropolitan region, and buildings smaller than 100,000 square feet of space rarely hit the market, so this was an extremely opportunistic acquisition for Whitehouse & Schapiro," explained Andrew Meeder of MacKenzie Commercial Real Estate Services. "Despite its age, the building's physical plant remains in excellent condition and was not in need of improvement, and our team with able to execute a timely transaction that exceeded seller expectations and met the exacting real estate requirements of the new owner."
MacKenzie Commercial Real Estate Services is the real estate brokerage arm of The MacKenzie Companies, which operates six full-service divisions addressing all real estate asset classes including MacKenzie Management Company, LLC, MacKenzie Contracting Company, LLC, MacKenzie Capital, LLC, MacKenzie Investment Group, LLC and MacKenzie Multifamily Management, LLC. The company provides customized real estate solutions for institutional owners, investors, private companies and individuals. For additional information, visit www.mackenziecommercial.com.