Wells Fargo Advisors Consolidates Two Annapolis-Area Locations at 2661 Riva Road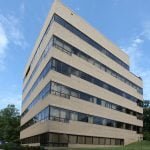 MacKenzie Commercial Real Estate Services brokers lease for 9,839 square feet of space
Wells Fargo Advisors has signed a lease with 2661 Riva, LLC for 9,839 square feet of space within 2661 Riva Road in the Annapolis section of Anne Arundel County, Maryland, in a move that consolidates two area locations into one expanded space in the six-story building containing more than 52,000 square feet of commercial office space. Trish Farrell, Senior Vice President and Principal and Bethany Hobbs, Senior Real Estate Advisor of MacKenzie Commercial Real Estate Services, as well as Craig Morrell of Morrell Commercial Properties Group represented the landlord in this transaction. Jeffrey Miller and Amanda Rosenthal off JLL represented Wells Fargo.
Wells Fargo Advisors, a subsidiary of Wells Fargo & Company, provides a full range of financial advisory services, investments and brokerage services and intends to move a current office at Annapolis Towne Centre into this new space by spring 2023. The lease expands the company's existing presence within 2661 Riva Road from 7,149 square feet of space and, upon completion of the move, approximately 40 employees will work from the building located adjacent to MD Route 50 and Interstate 97.
Conveniently located on Riva Road and within the Riva 400 Office Park, the building also features a new shared conference room, recently-upgraded common-area finishes, new state-of-the-art restrooms, a fifth floor balcony overlooking the park and abundant parking.
"Wells Fargo Advisors' real estate decision consisted of a side-by-side comparison and evaluation of two existing locations in the greater Annapolis region, with the goal of achieving a single-site consolidation of two operating divisions," explained Trish Farrell of MacKenzie. "Among the factors that drove the decision were the recent completion of renovations to the building and the ability to easily execute the office expansion at 2661 Riva Road. The asset features a park-like setting and plentiful parking, which are attractive to its clients, and is also within close proximity to numerous restaurants and retail amenities which will help attract and retain quality labor."
Just over 16,000 square feet of space remains available for lease in 2661 Riva Road. This includes the entire first floor of the building, comprising 8,235 square feet of space; approximately 4000 square feet of space on the ground level; and just over 4000 square feet of space on the fifth-floor penthouse, which features an exterior balcony.
MacKenzie Commercial Real Estate Services is the real estate brokerage arm of The MacKenzie Companies, which operates six full-service divisions addressing all real estate asset classes including MacKenzie Management Company, LLC, MacKenzie Contracting Company, LLC, MacKenzie Capital, LLC, MacKenzie Investment Group, LLC and MacKenzie Multifamily Management, LLC. The company provides customized real estate solutions for institutional owners, investors, private companies and individuals. For additional information, visit www.mackenziecommercial.com.