Percentage of Women Construction Workers Rises to an All-Time High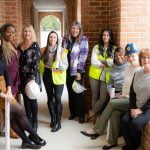 Locally, 30 percent of all MacKenzie Contracting Company employees are women
 A recent article in The Washington Post revealed that 14 percent of all construction workers in the U.S. are now women, representing an all-time high, a figure that has consistently risen since 2016, with data compiled by the United States Bureau of Labor Statistics. Contributing to the increase is the number of Hispanic women working in the construction industry, with a 117 percent rise over the past six years. In October 2009, approximately 13.5 percent of all construction workers were women which, according to Construction Dive, was the second highest total ever recorded. Women in Construction Week, which annually recognizes the challenges overcome by female workers in the industry, is scheduled for March 6-13 this year.
MacKenzie Contracting Company, a full-service general contracting company based in Lutherville, Maryland and part of The MacKenzie Companies, features a workforce that is presently 30 percent women, with a large percentage of the positions filled by project managers, project coordinators and business development professionals.
"Each time we recruit for a new position within our company, we strive to select the most experienced and highly-qualified professional that also fits within our corporate culture," explained Marty Copsey, President/COO & Principal, MacKenzie Contracting Company. "Increasingly, this has resulted in the hiring of a woman, and we consistently find a rich talent pool locally from which to draw highly-qualified candidates."
"We have arrived at a point in which interacting with women on the job site is not an unusual occurrence, and no longer creates a second thought. The rapid increase of women working in architectural, engineering, development and other real estate executive positions have accelerated this surge in the construction arena. It has been said that women are generally more compassionate and better listeners than their male counterparts, which adds important perspectives and insights towards the smooth delivery of construction projects."
The Post article states that Washington, D.C., at 17.6 percent, leads the country in the share of women holding construction-industry jobs, with Maryland holding the number 8 ranking at 13.4 percent. The influx of Hispanic women into the construction workforce has made a considerable impact, with the majority of the growth occurring on the work sites, as opposed to traditional back-office positions, the story says.
According to House Grail, women now comprise nearly 11 percent of the workforce at a construction site in the United States, and women working in construction and trade earn 30 percent more than those working in women-dominated jobs. Additionally, construction companies that employ women have a 25 percent possibility of achieving above-average profitability, compared to firms without women.
"Many paths, One Mission" is theme of Women in Construction Week
First started in 1998, this year's Women in Construction Week features the theme, "Many Paths, One Mission" which is intended to celebrate the different journeys taken by women to achieve the same goal: strengthening and amplifying the success of women in the construction industry."
"I am increasingly talking to a woman on the other end of the line, collaborating with women working in various real estate positions and noticing our numbers rise at events and conferences," stated Autumn Hill, Business Development and Marketing Manager for MacKenzie Contracting. "Many of my mentors are women and I am now finding myself interacting with young women interested in joining the field, which is a necessary component to maintain the momentum we have worked hard to achieve. The on-going public education process, the many organizations working to elevate women in the field and the general softening of stereotypes have all contributed to the progress, as well."
"If I could give advice to other women considering a career in construction, I would tell them to not be afraid to reach out to other women in the industry, let them share their experiences, and know that what used to be a male dominated industry is slowly losing that stereotype," said Sara Pollacco, Senior Project Manager for MacKenzie Contracting Company.
MacKenzie Contracting Company is the construction arm of The MacKenzie Companies, which operates six full-service divisions addressing all real estate asset classes including MacKenzie Commercial Real Estate Services, LLC, MacKenzie Management Company, LLC, MacKenzie Capital, LLC, MacKenzie Investment Group, LLC and MacKenzie Multifamily Management, LLC. The company provides customized real estate solutions for institutional owners, investors, private companies and individuals. For additional information, visit www.mackenziecontracting.com.