MacKenzie Engaged to Assist in Development of Frederick Residential Community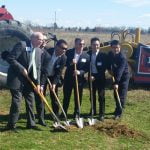 The MacKenzie Companies are proud to announce the successful settlement and pending development of Ballenger Run in Frederick, Maryland.  This planned unit development consists of 443 residential for-sale lots and 410 multifamily units on over 200 acres.  NVR Inc., the parent company of Ryan Homes, has been selected to construct all the for-sale homes in the community.
Robb Aumiller, Vice President of MacKenzie Development Company, LLC, has been engaged to direct entitlement and approvals for the project and will serve as project manager for the construction and build out of the community.  The project recently broke ground with build out expected to last five years.
"The strong regional housing market, our superior design and amenities, and the involvement of market-leader NVR will all contribute to making this project a success," stated Aumiller. "I'm excited to start construction."
John Black, President of MacKenzie Capital, LLC, arranged the acquisition and development financing on behalf of Singapore eDevelopment Limited, a Singapore Exchange-listed company.  Financing was provided from a regional bank on a non-recourse basis and at competitive rates. "The foreign ownership was a challenge; however, our team worked closely with the owner and lender to arrange financing which met all the owner's needs," stated Black.
"Collaboration between MacKenzie Development Company and MacKenzie Capital was vital to the success of this deal and contributed to the efficient and speedy review and closing process. We were able to get the lender comfortable with the foreign ownership by demonstrating the strength of the project manager, MacKenzie Development Company, and their experience developing similar projects," stated Black.
"This project is a perfect example of how the collaboration of MacKenzie's full-service platform can provide superior results to our clients, efficiently and effectively," stated Gary Gill, President of the holding company MacKenzie Ventures.  "Congratulations to both firms on this project."
For more information regarding MacKenzie's development capabilities, please contact Robb Aumiller at 410.494.4883 or rjaumiller@mackenziecommercial.com.  For financing services, please contact John Black at 410.494.6652 or jblack@mackenziecommercial.com.
###
MacKenzie Ventures, LLC (MacKenzie) possesses the multi-disciplined team necessary to excel in Maryland's corporate real estate community. Comprising seven firms, MacKenzie provides clients a competitive, full service platform of offerings in leasing, sales, investment sales, tenant and landlord advisory services, corporate and business consulting, commercial and residential development, general construction, property and asset management, debt and equity capital placement, and market research.  With more than 150 employees and offices in Annapolis, Baltimore, Bel Air, Columbia, and Lutherville, Maryland, MacKenzie is one of the largest full service commercial real estate firms in the Mid-Atlantic. Please visit www.mackenziecommercial.com for more information.