Launch! Annapolis 3rd Annual Annapolis Crab Derby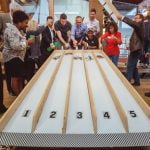 On Thursday, April 21, Launch! Annapolis hosted their 3rd Annual Annapolis Crab Derby.  The event was held at the Chesapeake Bay Foundation's (CBF) headquarters in Annapolis in the Philip Merrill Environmental Center, providing amazing views of the Bay.  Select guests raced Chesapeake Bay Blue Crabs in front of a crowd of more than 100 in an effort to raise money and awareness for the CBF.  The event also featured start-up pitches from five area firms who had the floor to briefly describe the unique way their products or services are solving a problem for a large addressable market.  Presenting firms included MicroAer Technologies, SecuLore Solutions, LLC, DIY Realty, Loople, and Frey Forman.  The event raised over $2,000.  MacKenzie Commercial Real Estate Services, LLC and Whiteford Taylor Preston were corporate sponsors for the event and for Launch! Annapolis as a whole.
"The Annapolis Crab Derby has been established as an annual event to raise money for the CBF, supporting their efforts to restore the largest estuary in North America. The event is also a celebration of entrepreneurship featuring start-up pitches from some of the region's top innovators including clean technology companies," stated Ryan Sears, Cofounder of Launch! Annapolis.  "The energy and outpouring of support for the CBF and entrepreneurship is humbling. We are proud to put on the event"
Launch! Annapolis was established to provide startup founders, investors, and innovative thinkers a foundation to come together to launch high-growth ventures in the state's capital. The group's purpose is to facilitate a community that supplies helpful resources such as business mentoring, media exposure, and introductions between angel investors and well positioned startups.
"On behalf of MacKenzie, we are honored to be partnered with Launch! and applaud their commitment to supporting entrepreneurship, providing start-ups the needed support, advisory services, and resources to get their business off the ground," stated MacKenzie Vice President and Launch! Board Member, Trish Farrell.
For more information on Launch! Annapolis, please visit www.launchannapolis.org. For more information on MacKenzie, please visit www.mackenziecommercial.com.
---
###
MacKenzie Ventures, LLC (MacKenzie) possesses the multi-disciplined team necessary to excel in Maryland's corporate real estate community. Comprising seven firms, MacKenzie provides clients a competitive, full service platform of offerings in leasing, sales, investment sales, tenant and landlord advisory services, corporate and business consulting, commercial and residential development, general construction, property and asset management, debt and equity capital placement, and market research.  With more than 150 employees and offices in Annapolis, Baltimore, Bel Air, Columbia, and Lutherville, Maryland, MacKenzie is one of the largest full service commercial real estate firms in the Mid-Atlantic. Please visit www.mackenziecommercial.com for more information.