MacKenzie Contracting Receives NAIOP Maryland Award of Excellence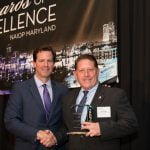 MacKenzie Contracting Company was recently recognized at NAIOP Maryland's Bi-Annual Awards of Excellence Gala, receiving the award for Best Interior Rehab for work completed at Baltimore engineering firm RK&K's new headquarter location in Baltimore City.  The project consisted of a complete renovation and buildout of 116,000 total square feet between two floors located at 200 E. Pratt Street in the heart of downtown Baltimore's harbor.  Scott Albright, Senior Vice President for MacKenzie Contracting led the project and accepted the award on behalf of his team.
This new location for RK&K represented a consolidation of three of their Baltimore offices into one, providing the opportunity to bring everyone together again and positioning the firm conveniently to their workforce.  MacKenzie Contracting collaborated for two years with RK&K to complete the renovation which included numerous high-end finishes, some of which required special engineering components; a concrete reception area, a rebar wall, guardrails at the staircase, and gabion baskets in the lobby.  Having a tight schedule for completion, work had to be organized precisely between multiple schedules of parties involved; that of the tenant that was vacating, and leasing constraints from RK&K's multiple city locations that were to be vacated.
"A demanding and at times daunting project, we are honored to have had the opportunity to work with RK&K throughout their headquarter renovation," stated Albright.  "The finished product truly stands out from traditional office interiors while complementing the RK&K brand and vision.  We wish them many successes in their space for years to come."
NAIOP is the nation's leading trade association for developers, owners, investors and other professionals in industrial, office and mixed-use commercial real estate. Comprising 19,000 members in 55 chapters, it provides networking opportunities, educational programs, research on trends and innovations and strong legislative representation.  With more than 420 members, NAIOP Maryland's bi-annual awards program celebrates and recognizes the innovative achievements of regional commercial real estate developers, as well as companies and professionals that service the industry in Maryland.
Established in 1988, MacKenzie Contracting Company, LLC, is an award‐winning full‐service general contracting and construction management firm offering a full range of pre‐construction, general contracting, ground‐up construction, renovations and project management assistance for clients in an array of industries; including healthcare, defense, education, retail, business, and manufacturing.
For more information on MacKenzie Contracting Company, LLC, please visit www.mackenziecontracting.com.
MacKenzie Ventures, LLC (MacKenzie) possesses the multi-disciplined team necessary to excel in Maryland's corporate real estate community. Comprising seven firms, MacKenzie provides clients a competitive, full service platform of offerings in leasing, sales, investment sales, tenant and landlord advisory services, corporate and business consulting, commercial and residential development, general construction, property and asset management, debt and equity capital placement, and market research.  With more than 225 employees and offices in Annapolis, Baltimore, Bel Air, Columbia, and Lutherville, Maryland, MacKenzie is one of the largest full service commercial real estate firms in the Mid-Atlantic. Please visit www.mackenziecommercial.com for more information.