MacKenzie Management Receives Three Awards at BOMA TOBY Awards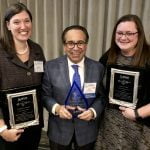 MacKenzie Management Company, LLC, the full-service property management arm of MacKenzie Ventures, is honored to announce it won three awards at BOMA of Greater Baltimore's (Building Owners and Managers Association) annual TOBY Awards on October 25th.  MacKenzie submitted three buildings:  Little Patuxent Place in the category of Best Corporate Facility; Ten Acres Medical Center in the category of Best Medical Office Building; and, Towson City Center in the category of Best Office Building 100,000 square feet – 249,999 square feet.  MacKenzie received the highest honors by winning The Outstanding Building of the Year for both Little Patuxent Place and Ten Acres Medical Center and received the Award of Excellence for Towson City Center.
"The awards event was a night of excitement, pride, and gratitude for our management team," stated Brendan Gill, President of MacKenzie Management Company, LLC.  "I am especially thrilled for the recognition that was earned by our team members: Jessica Escobar and Nick Nicholson, our Property Manager and Building Engineer for Little Patuxent Place; Kati Coles, John O'Donnell, and Trey Hawkins, our Senior Property Manager and Building Engineers for Ten Acres; and, Julio Purcell and Antione Nicholson, our Senior Property Manager and Building Engineer for Towson City Center.  They worked tirelessly throughout the lengthy and thorough application process, as well as during a rigorous three to four-hour tour of the buildings while the buildings were scored against BOMA's highest standards.  I am extremely proud of our team."
The Outstanding Building of the Year (TOBY) Awards is the most prestigious and comprehensive program of its kind in the commercial real estate industry recognizing quality in commercial buildings and excellence in building management and operations.  During the competition, all facets of a building's operations are thoroughly evaluated. Buildings are judged on everything from community involvement, tenant relations and site management, to environmental and "green" policies and procedures.
MacKenzie manages more than nine million square feet of commercial real estate space for a variety of local, regional and national owners spanning all asset classes.  MacKenzie's management strategies are customized, full-service plans tailored to the unique needs of each property and ownership group.  Services can range from all-inclusive asset management to versatile a-la-carte services that can complement existing procedures.  For additional information on MacKenzie Management, please visit www.mackenziecommercial.com.
###
MacKenzie Ventures, LLC (MacKenzie) possesses the multi-disciplined team necessary to excel in Maryland's corporate real estate community. Comprising seven firms, MacKenzie provides clients a competitive, full service platform of offerings in leasing, sales, investment sales, tenant and landlord advisory services, corporate and business consulting, commercial and residential development, general construction, property and asset management, debt and equity capital placement, and market research.  With more than 225 employees and offices in Annapolis, Baltimore, Bel Air, Columbia, and Lutherville, Maryland, MacKenzie is one of the largest full service commercial real estate firms in the Mid-Atlantic. Please visit www.mackenziecommercial.com for more information.