MacKenzie Expands with Three Additions to Brokerage Team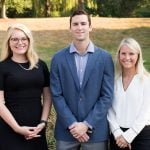 MacKenzie Commercial Real Estate Services, LLC is pleased to welcome Kevin O'Neil, Jennifer (Jenny) Staines, and Morgan Wimbrow to the MacKenzie family.  Joining as Real Estate Advisors, all three will support the firm's continuing regional expansion efforts, working to build tenant and landlord relations, identifying market opportunities for represented clients, and supporting business development initiatives.
Kevin will work from the firm's downtown Baltimore office with the Industrial Services Group supporting local, regional, and national clients, partnering with Senior Vice President/Principal Dan Hudak and Senior Vice President Mike Spedden.  Prior to joining MacKenzie, Kevin worked as a Business Development Associate for the Trion Group and gained sales experience through a role with MTM Technologies where he focused on lead development, management, and inside sales operations.  He is graduate of The Boys' Latin School and holds a Bachelor of Arts degree from Villanova University.
Jenny will work out of MacKenzie's Annapolis office with Senior Vice President/Principal Trish Farrell, focusing on leasing and sales activities for office, mixed-use, flex, and medical product throughout the Baltimore Washington Corridor and surrounding region.  Jennifer's previous experience includes working with CRESA in Tysons, Virginia where she worked to prepare prospective client and property reports and assisted with the marketing of represented properties. Jenny is a life-long resident of Montgomery County and holds a degree in Business Administration from Monmouth University.
Morgan Wimbrow will partner with MacKenzie's Baltimore County team headed by Senior Vice President/Principal Bill Whitty from the firm's headquarter location in Lutherville. Her role will include generating new tenant leads, cataloging market activity, and supporting business development initiatives. She will also support leasing and tenant retention efforts for the MacKenzie portfolio which totals more than two million square feet.  Prior to joining MacKenzie, Morgan worked as a Development Coordinator for JDRF in Washington, DC where she was responsible for coordinating fundraising events and establishing corporate partnerships.  Her experience also includes working as a member of the finance team for "Hogan for Governor" in Annapolis, Maryland.  She is a graduate of Bridgewater College in Bridgewater, Virginia.
"These are exciting times for MacKenzie as we continue to expand our market presence, we are pleased Kevin, Jennifer, and Morgan chose to join our firm," stated Scott Wimbrow, President of MacKenzie Commercial Real Estate Services, LLC.  "All three offer dynamic backgrounds and characteristics that will further support the needs of our growing client base and allow us to continue providing the dedicated levels of support our clients have come to know and expect."
For more information on MacKenzie, please visit www.mackenziecommercial.com. For contact information for our new hires, please visit www.mackenziecommercial.com/about/team.
###
MacKenzie Ventures, LLC (MacKenzie) possesses the multi-disciplined team necessary to excel in Maryland's corporate real estate community. Comprising seven firms, MacKenzie provides clients a competitive, full service platform of offerings in leasing, sales, investment sales, tenant and landlord advisory services, corporate and business consulting, commercial and residential development, general construction, property and asset management, debt and equity capital placement, and market research.  With more than 225 employees and offices in Annapolis, Baltimore, Bel Air, Columbia, and Lutherville, Maryland, MacKenzie is one of the largest full service commercial real estate firms in the Mid-Atlantic. Please visit www.mackenziecommercial.com for more information.