MacKenzie to Lease 36 S. Charles Street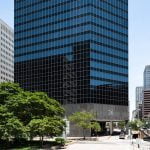 MacKenzie Commercial Real Estate Services, LLC is proud to announce it has been awarded the leasing assignment for 36 S. Charles Street, one of Downtown Baltimore's iconic office buildings situated in the heart of the city's business center.  Totaling nearly 320,000 square feet, the building recently went under new ownership and management, Zamir Equities and Diversified Management Plus, respectively.  MacKenzie Senior Vice President Terri Harrington and Vice President Jim Grieves will be representing the owner.
Located two blocks from the Inner Harbor, 36 S. Charles offers all the "check the box" amenities tenants seek including a full-service, free conference center with concierge, two cafes, tenant storage onsite, and an onsite parking garage.  Previous owners recently completed improvements including updating the building's main lobby, enhancing the conference center, and upgrading the elevators.  Zamir Equities has additional capital improvements on the horizon that include further modernizing the elevators, upgrading additional common areas, enhancing building security, and adding a boutique coffee shop, just to name a few.
"We are dedicated to making a long-term commitment to the downtown Baltimore market," stated Asher Zamir, President and CEO of Zamir Equities. "With its superior location and plethora of recently completed tenant amenities, 36 S. Charles is an attractive commercial office building we are very proud to offer. We intend to be completely hands-on and provide our tenants with unmatched services."
The building is in HUB and Enterprise zones and less than one block from the Metro, within two blocks of the Light Rail, and along the Charm City Circulator route. Availabilities range from 1,100 – 13,040 square feet.
"Availabilities at 36 S. Charles provide tenants the opportunity to be located in a Class A office building with rental rates more competitive than what you would see one block south," stated Terri Harrington.
For more information on 36 S. Charles Street, please visit www.mackenziecommercial.com.  For leasing opportunities, please contact Terri Harrington at tharrington@mackenziecommercial.com or 443.573.3213, or Jim Grieves at jgrieves@mackenziecommercial.com or 443.573.3202.
###
MacKenzie Ventures, LLC (MacKenzie) possesses the multi-disciplined team necessary to excel in Maryland's corporate real estate community. Comprising seven firms, MacKenzie provides clients a competitive, full service platform of offerings in leasing, sales, investment sales, tenant and landlord advisory services, corporate and business consulting, commercial and residential development, general construction, property and asset management, debt and equity capital placement, and market research.  With more than 225 employees and offices in Annapolis, Baltimore, Bel Air, Columbia, and Lutherville, Maryland, MacKenzie is one of the largest full service commercial real estate firms in the Mid-Atlantic. Please visit www.mackenziecommercial.com for more information.