MacKenzie Expands Corridor Team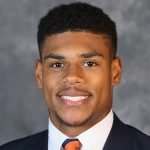 MacKenzie Commercial Real Estate Services, LLC is pleased to welcome Andre Levrone, Jr. to the MacKenzie team as a Real Estate Advisor. Andre will be working from the firm's Columbia office and is a welcomed addition as the firm continues to expand their market presence and client base particularly into the D.C. suburban markets. Working closely with industry veteran Adam Nachlas, Andre will focus on building tenant and landlord relations, generating leasing prospects, identifying market opportunities for represented accounts, and supporting business development initiatives.
"MacKenzie's focus around local businesses, investors, and entrepreneurs, coupled with their reputation within the industry are unmatched," stated Levrone.  "I am excited to be part of their team."
A graduate of the University of Virginia, Andre holds a degree in communications. During college, he worked with the Virginia Athletic Foundation where he supported fundraising efforts, managed vendor agreements, coordinated office needs, calls, and meetings for the annual fund, and worked to build stronger relations with local businesses and larger corporations.  Andre is a licensed salesperson for the State of Maryland. Prior to joining the commercial real estate industry, Andre worked as a professional athlete playing with both the Baltimore Ravens and Carolina Panthers.
"We are excited that Andre has decided to join MacKenzie to pursue his career in commercial real estate," stated Scott Wimbrow, President of MacKenzie Commercial Real Estate Services, LLC.  "His dynamic background and competitive nature will further support our growing regional client base and allow us to better provide the dedicated levels of support our clients have come to know and expect.  We look forward to watching him grow within the company."
Over the past year, MacKenzie's brokerage team members focusing on the Baltimore Washington Corridor has increased to 14, five of which additionally specialize in the D.C. suburban markets.
For more information on MacKenzie, please visit www.mackenziecommercial.com.  Andre Levrone can be reached directly at 410.798.9347 or alevrone@mackenziecommercial.com.
###
MacKenzie Ventures, LLC (MacKenzie) possesses the multi-disciplined team necessary to excel in Maryland's corporate real estate community. Comprising seven firms, MacKenzie provides clients a competitive, full service platform of offerings in leasing, sales, investment sales, tenant and landlord advisory services, corporate and business consulting, commercial and residential development, general construction, property and asset management, debt and equity capital placement, and market research.  With more than 225 employees and offices in Annapolis, Baltimore, Bel Air, Columbia, and Lutherville, Maryland, MacKenzie is one of the largest full service commercial real estate firms in the Mid-Atlantic. Please visit www.mackenziecommercial.com for more information.