Maple Lawn Retail Continues to Thrive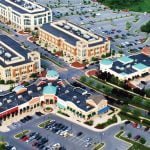 MacKenzie Commercial Real Estate Services, LLC is pleased to announce the recent opening of six new retail tenants at the award-winning, 600-acre mixed-use community, Maple Lawn. Located in Howard County, Fulton, Maryland, Maple Lawn sits centrally between Baltimore and Washington, DC and continues to attract strong interest. In the past three months, the following retailers and service providers have opened their doors for business:
Cookie Cutters: Children's hair salon that provides families with an amazing hair cut experience.
Decadent Desserts: A first of its kind, a fast and casual bakery, dessert, coffee, and wine bar.
Drayer Physical Therapy: Part of the Upstream Rehabilitation family of clinical care, Drayer Physical Therapy Institute is a leading operator of outpatient physical therapy.
Fresh Dental Group: Dental practice that provides a full range of the latest and most advanced dental procedures designed to meet the needs of every member of the family.
Maiwand Kabob: Serving authentic Afghan cuisine, Maiwand Kabob began in 1999 in Columbia and has grown to five locations.
Patapsco Bicycles: Founded in 2010 by a group of passionate cyclists, Patapsco Bicycle caters to everyone from recreational riders, families, racers, road cyclists and mountain bikers.
Additionally, new locations for Pure Barre, & Running, Sunset Raw Juice Bar, and Verizon are currently under construction and set to open by year-end. MacKenzie's Laura Williams and Tom Fidler represented the landlord in the above transactions and continue to market remaining availabilities that range from 1,800 sf to 4,500 sf.
"Despite the current pandemic, projects such as Maple Lawn continue to thrive," stated Williams. "With open-air shopping, multiple patio dining options, and plentiful areas of greenspace, Maple Lawn provides a layout of functionality, one that supports the enjoyment of retail offerings, safely. We see consumers craving these features more today given current pandemic conditions and restraints."
Developed by Greenebaum Enterprises, Maple Lawn has been recognized as a premier mixed-use community known for its award-winning architecture, traditional neighborhood design, ease of walkability, and its large areas of open space which are infused into the community. Along with St. John Properties, Greenebaum Enterprises has developed 1.2 million square feet of class A office.
For more information on retail leasing opportunities at Maple Lawn, please contact Laura Williams at 410.494.4864 or lwilliams@mackenziecommercial.com; or, Tom Fidler at 410.494.4860 or tfidler@mackenziecommercial.com.
MacKenzie Ventures, LLC (MacKenzie) possesses the multi-disciplined team necessary to excel in Maryland's corporate real estate community. Comprising seven firms, MacKenzie provides clients a competitive, full service platform of offerings in leasing, sales, investment sales, tenant and landlord advisory services, corporate and business consulting, commercial development, general construction, property and asset management, multifamily property management, debt and equity capital placement, and GIS/Data Analytics.  With more than 225 employees and offices in Annapolis, Baltimore, Bel Air, Columbia, and Lutherville, Maryland, MacKenzie is one of the largest full service commercial real estate firms in the Mid-Atlantic. Please visit www.mackenziecommercial.com for more information.