MacKenzie Completes Industrial Sale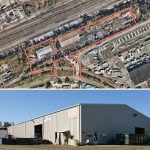 MacKenzie Commercial Real Estate Services, LLC is pleased to announce the recent sale of 7600 Rolling Mill Road, an industrial site with two structures totaling 38,200 square feet located in the Baltimore County East submarket. The building was owned by a metal processing business located in several facilities throughout the Mid- to South Atlantic region. MacKenzie's Mike Spedden and Andrew Meeder represented the owner in the transaction; Daniel Hudak, also with MacKenzie, represented the purchaser, Canton Railroad Company.
"Canton Railroad engaged our team to locate sites that were served by rail that could be purchased to better control the destiny of their rail line," stated Hudak. "This purchase will allow them to better position themselves for a long-term play in the Baltimore market."
Founded in 1906, Canton Railroad Company is a rail logistics provider that offers freight services to industrial, manufacturing, and port related shippers. Canton's business footprint had been decreasing due to gentrification of Baltimore's waterfront; often, industrial sites served by the Canton Rail Line have been redeveloped or repurposed eliminating the potential for business growth. Situated on 7.6 acres of land, 7600 Rolling Road allows Canton Railroad to better compete with competing operators.
For more information on MacKenzie's industrial service offerings, please contact Andrew Meeder at 410.494.4881 or ameeder@mackenziecommercial.com; or, Dan Hudak at 443.573.3205 or dhudak@mackenziecommercial.com.
###
MacKenzie Ventures, LLC (MacKenzie) possesses the multi-disciplined team necessary to excel in Maryland's corporate real estate community. Comprising seven firms, MacKenzie provides clients a competitive, full service platform of offerings in leasing, sales, investment sales, tenant and landlord advisory services, corporate and business consulting, commercial development, general construction, property and asset management, multifamily property management, debt and equity capital placement, and GIS/Data Analytics.  With more than 225 employees and offices in Annapolis, Baltimore, Bel Air, Columbia, and Lutherville, Maryland, MacKenzie is one of the largest full service commercial real estate firms in the Mid-Atlantic. Please visit www.mackenziecommercial.com for more information.