MacKenzie Arranges $35,000 Donation to the Maryland Food Bank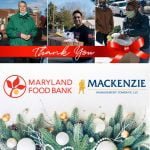 MacKenzie Management Company, LLC, is thrilled to announce that $35,000 has collectively been donated to the Maryland Food Bank (MFB) in honor of the tenants in the buildings they manage. Funded by MacKenzie Management's clients, efforts for the collection were put in place in lieu of providing tenants with traditional holiday gifts. Tenants will receive recognition from MFB that a donation has been made in their honor by their building owner.
"This donation was a joint effort from the owners we work on behalf of, and our team at MacKenzie. I credit our team for coming up with and executing on the idea, and more importantly, the generosity of our clients who enthusiastically supported the initiative in lieu of our usual holiday gifts. This is a nice way to really help those that are in need in these unprecedented times," stated Brendan Gill, President of MacKenzie Management Company. "We are humbled by the response we received from our building owners when we presented this holiday collection, and grateful for organizations such as the Maryland Food Bank for their relief efforts."
A donation of $35,000 equates to enough food to provide up to 105,000 meals for communities across the State. This contribution will go towards meeting the increased needs of those in need by purchasing more food to ensure MFB's shelves stay stocked; provide Grab  & Go meals for students missing school meals; operating "drive-thru" Pantry on the Go food distributions; and, building Back Up Boxes of shelf-stable foods for when other distribution methods are not an option.
"During these challenging times when demand for food assistance remains incredibly high, generous contributions from corporations like the Mackenzie Management Company ensure the food bank is able to help our community partners keep their doors open to serve Marylanders in need," MFB's Executive Vice President of Programs & External Affairs Meg Kimmel said. "This donation will go a long way toward our efforts to feed individuals and families who've been impacted by the COVID-19 pandemic, emphasizing the homebound, newly unemployed, and communities of color. We greatly value the Mackenzie Management Company's support and commitment to MFB's mission, especially as the economic effects of the pandemic continue to challenge our neighbors in need in 2021."
About the Maryland Food Bank
 The Maryland Food Bank is a nonprofit hunger-relief organization dedicated to feeding people, strengthening communities, and ending hunger for more Marylanders by partnering with local organizations from the western mountains to the Eastern Shore. Last year, the food bank's statewide network of food assistance brought enough resources together to provide the equivalent of 110,000 meals every day (over 40 million meals annually) to hungry children, seniors, veterans, and hard-working families, meeting the immediate needs of hungry Marylanders while simultaneously working to create pathways out of hunger. To learn more about the Maryland Food Bank, visit www.mdfoodbank.org.
###
MacKenzie Ventures, LLC (MacKenzie) possesses the multi-disciplined team necessary to excel in Maryland's corporate real estate community. Comprising seven firms, MacKenzie provides clients a competitive, full service platform of offerings in leasing, sales, investment sales, tenant and landlord advisory services, corporate and business consulting, commercial development, general construction, property and asset management, multifamily property management, debt and equity capital placement, and GIS/Data Analytics.  With more than 225 employees and offices in Annapolis, Baltimore, Bel Air, Columbia, and Lutherville, Maryland, MacKenzie is one of the largest full service commercial real estate firms in the Mid-Atlantic. Please visit www.mackenziecommercial.com for more information.