Farm Charm Opens New Location at Waterside Village in Easton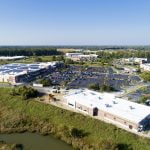 Home Décor and gifts business also operates several stores at the Queenstown Outlets    
Farm Charm, a family-owned business offering home décor, seasonal items and gifts, founded by Amelia and Jeffrey Merryman, has opened its second location within a 4,700 square foot space at Waterside Village in Easton. The 200,000 square foot mixed-use project is situated at the intersection of MD Route 322 (Easton Parkway) and MD Route 33 (St. Michaels Road) in Talbot County, Maryland. MacKenzie Commercial Real Estate Services, LLC is the exclusive leasing company for the center with marketing and leasing activities handled by John Schultz, Tim Harrington, Michael Ruocco, and Morgan Wimbrow.
"Our unique store at Queenstown Outlets is performing exceptionally well and we decided now was the perfect time to expand our brand into the Easton section of Talbot County," explained Briana Heath of Farm Charm. "We realize there are many compelling and interesting shops and boutiques in the area, but also felt our product offering sets us completely apart and we could carve out a loyal consumer following. The strong tenant mix at Waterside Village in Easton generates consistent traffic and that was a pivotal factor in our decision."
Heath further explains that some of the store's furniture pieces are unique and one-of-a-kind. Farm Charm stocks a highly-unique collection of traditional, urban, rustic, and coastal farmhouse décor, as well as kitchenware, candles and gifts. Farm Charm carries a small collection of women's apparel and a large selection of seasonal items suitable for home decorating including fall and Christmas. Farm Charm offers online shopping as well as interior decorating services. A portion of the store is also dedicated to the family's Seize The Bay collection, which specializes in Maryland, Coastal, Nautical home décor and gifts. The Merryman's now operate four stores including Eden & Avery and Seize the Bay located in the Queenstown Premium Outlets in Queenstown, MD.
With this latest lease, MacKenzie Commercial Real Estate Services has added more than 27,000 square feet of new leases to Waterside Village at Easton. The activity includes Planet Fitness (17,500 square feet), a national fitness center franchise; Anne Arundel County-based loan provider Bay Country Financial Services (1,440 square feet); Josef's Sweets By Chef Gregory James (1,410 square feet), a local group specializing in gourmet desserts and national hair salon franchise Great Clips (1,335 square feet).
Waterside Village at Easton features a mix of big-box and soft goods retailers, a major grocery store, fast-casual restaurants, professional services retailers, medical uses and commercial office space on the second story level. Anchor tenants include Target, BJs Wholesale Club, Harris Teeter, Dick's Sporting Goods, PetSmart and Michael's. In addition, Anne Arundel Medical Center operates within a free-standing building at the center and provides a range of primary care and specialty healthcare services.
"The healthcare crisis exacted an enormous toll on a majority of the retail industry, an impact that especially hard on tertiary markets such as Easton," explained John Schultz of MacKenzie Commercial Real Estate Services. "The owner of Waterside Village at Easton was looking for a fresh approach to the marketing and leasing strategy and, upon receiving the listing, our brokerage team began identifying prospects that were unique to the Easton submarket and are destination-style retailers. Despite the dramatic increase in on-line shopping, retailers across all categories still crave brick-and-mortar locations to create branded shopping experiences, elongate the consumer stay and provide instant gratification. By leveraging our deep relationships with end-users and strategically approaching retailers to optimize the tenant mix, we were able to successfully execute a leasing program that will add significant value to the asset."
Nearly 35,000 people reside within a 20-minute drive from Waterside Village at Easton, including nearly 15,000 households with an average household income exceeding $101,000. An additional 40,000 people work within 20 minutes from the mixed-use project.
MacKenzie Commercial Real Estate Services is the real estate brokerage arm of The MacKenzie Companies, which operates six full-service divisions addressing all real estate asset classes including MacKenzie Management Company, LLC, MacKenzie Contracting Company, LLC, MacKenzie Capital, LLC, MacKenzie Investment Group and Datastory Consulting. The company provides customized real estate solutions for institutional owners, investors, private companies and individuals. For additional information, visit www.mackenziecommercial.com